Café Infinity Guru Blending Kit
Ready to roll...look no further. We've assembled a complete package to empower you in your journey for the perfect blend. There are an infinite number of options available to you. Get started and start creating! Here's what's included:
(12) 3 oz bags of High Grown Arabica Coffees chosen from the finest coffee estates throughout the world. Discover the unique flavors of each coffee region and begin creating your own personal specialty coffee blend.  Our beans are small batch roasted and packaged in a nitrogen-flushed valve bag to ensure ultimate freshness.  
Mexico Oaxaca – Light Roast
Panama Boquete – Light Roast
Ethiopia Natural Yirgacheffe – Medium Roast
Ethiopia Washed Sidama – Medium Roast
Honduras Marcala – Medium Roast
Peru Cajamarca – Medium Roast
Guatemala Huehuetenango – Medium Roast
Brazil Minas Gerais – Medium Roast
Colombia Tolima – Medium Roast
Sumatra Aceh – Dark Roast
Papua New Guinea Nebilyer Valley – Dark Roast
Tanzania Peaberry - Dark Roast
(1) Stainless-Steel Storage Rack. Holds twelve storage tins and spins for easy access. It is stylish and compact. Perfect for storing and displaying your range of Café Infinity coffees on your countertop.
(12) Airtight, Matte Black Decorative Tins for storing your single origin coffees and newly created blends.
(1) Set of Stainless-Steel Measuring Scoops. Use to help you keep track of your measurements. Once you discover your perfect blend, you'll probably want to remember the recipe to enjoy it again!
* Savings based on purchasing products separately
 * We reserve the right to substitute a coffee variety based on product availability.
Customer Reviews
Write a Review
Ask a Question
Filter Reviews:
roasts
coffee
blends
adventure
home
starter kit
everyone
cream
sugar
comfort zone
07/14/2021
Denise T.

United States
Great Coffee Experience
Enjoyed experimenting with all the different single source beans. My favorite blends tended to be on the milder side but with strong aroma and distinct flavor. The quality of brewing equipment was also top notch. Thank you for the opportunity to have a unique coffee experience
07/05/2021
Tom P.

United States
Quality Coffee
A great way to sample many excellent coffees from around the world.
06/17/2021
Lisa H.

United States
A Fabulous Experience
From the minute my package arrived, I knew I was in for a unique and exciting adventure. The vibrant color packaging, the labeling and the variety of flavors were impressive and amazing. I loved the ability to choose, blend, experiment, and sample the different roasts. The only thing better was the delicious taste of the coffee. It is outstanding. It is rich, flavorful, distinct and I thoroughly enjoyed every sip…cup after cup.
03/31/2021
Tia A.

United States
Step Up Your Coffee Game!
I'm was a Plain Jane coffee drinker most of my life. I'd typically drink (dare I say it?) decaf, plenty of cream and sugar too. Cafefinity has taken me out of my comfort zone and allowed me to experiment with different blends and I LOVE it! I always thought I hated dark roasts... Cafefinity determined that was a lie. The app is super easy and convenient to use and I feel really fancy when I have company over and get to tell them about how I make my own custom blends.
03/25/2021
JC

United States
Love all the Blends
This starter kit is for everyone who loves coffee or is starting to make coffee at home. They have so many types of different blends, you really can't go wrong. They have an app that can create blends for you or you can play around with them. All you need is your choice of milk. Definitely makes drinking coffee at home a lot more fun!
Can't live without my morning coffee and now my brew has been elevated to a whole new level! I'm loving experimenting and mixing all Café Infinity's various Single Origin Coffees to create my unique blend for the day. I highly recommend their Guru Starter Kit - it comes with everything you need to get started...super easy! Once it arrived, I downloaded the Café Infinity App which helped guide me and give me tips...but honestly in no time I was feeling like a coffee blender pro!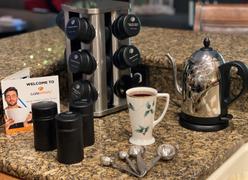 I am having fun creating custom blends to match my brunch and dessert menus. Since we haven't been in restaurants in a while we are trying to 'up our game' at home :) Cafe Infinity makes it fun and happy to have my favorite blends recorded to recreate when I want.
This is so cool! My husband and I are having a blast making our own blends!
What a great concept - I love the idea of customizing my coffee flavors. I have been drinking the same one or two flavors for a long time because I really dont like to try new things. With the app, I've already been able to create a a couple new combinations that I'm hooked on . And I grabbed one of the pourovers so I can enjoy the blend I made at work.