Café Infinity Guru Blending Kit
Ready to roll...look no further. We've assembled a complete package to empower you in your journey for the perfect blend. There are an infinite number of options available to you. Get started and start creating! Here's what's included:
(12) 3 oz bags of High Grown Arabica Coffees chosen from the finest coffee estates throughout the world. Discover the unique flavors of each coffee region and begin creating your own personal specialty coffee blend.  Our beans are small batch roasted and packaged in a nitrogen-flushed valve bag to ensure ultimate freshness.  
Available in Roast & Ground and Whole Bean.
Mexico Oaxaca – Light Roast
Panama Boquete – Light Roast
Ethiopia Natural Yirgacheffe – Medium Roast
Ethiopia Washed Sidama – Medium Roast
Honduras Marcala – Medium Roast
Peru Cajamarca – Medium Roast
Guatemala Huehuetenango – Medium Roast
Brazil Minas Gerais – Medium Roast
Colombia Tolima – Medium Roast
Sumatra Aceh – Dark Roast
Papua New Guinea Nebilyer Valley – Dark Roast
Tanzania Peaberry - Dark Roast
(1) Stainless-Steel Storage Rack. Holds twelve storage tins and spins for easy access. It is stylish and compact. Perfect for storing and displaying your range of Café Infinity coffees on your countertop.
(12) Airtight, Matte Black Decorative Tins for storing your single origin coffees and newly created blends.
(1) Set of Stainless-Steel Measuring Scoops. Use to help you keep track of your measurements. Once you discover your perfect blend, you'll probably want to remember the recipe to enjoy it again!
* Savings based on purchasing products separately
 * We reserve the right to substitute a coffee variety based on product availability.
Customer Reviews
Write a Review
Ask a Question
Filter Reviews:
roasts
coffee
blends
flavors
combinations
adventure
home
starter kit
everyone
cream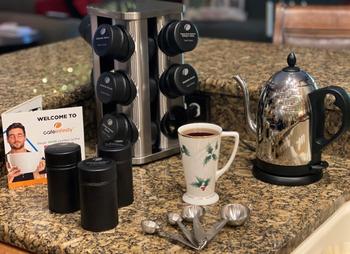 02/02/2021
Can't live without my morning coffee and now my brew has been elevated to a whole new level! I'm loving experimenting and mixing all Café Infinity's various Single Origin Coffees to create my unique blend for the day. I highly recommend their Guru Starter Kit - it comes with everything you need to get started...super easy! Once it arrived, I downloaded the Café Infinity App which helped guide me and give me tips...but honestly in no time I was feeling like a coffee blender pro!
01/12/2022
Not a coffee snob, but loved it
I didn't know if I would "get it", but am enjoying this! Almost time to reorder already...
Alex R.

United States
09/08/2021
A coffee lovers dream
Had so much fun blending the various single origin coffees that came in this kit. I tried combinations I never would have been able to with a store bought coffee. I signed up for auto delivery and can't wait for the next assortment to arrive.
kerrie r.

United States
08/21/2021
cafe infinity
Love all the combinations i can create. I really enjoy the flavors of the dark roasts in the kit.
LISA R.

United States
07/14/2021
Great Coffee Experience
Enjoyed experimenting with all the different single source beans. My favorite blends tended to be on the milder side but with strong aroma and distinct flavor. The quality of brewing equipment was also top notch. Thank you for the opportunity to have a unique coffee experience
Denise T.

United States